Sydney's Sweater Poncho
Here is Sydney's Sweater Poncho. She loved Molly's so much that I had to make her one. I also made a hat to match Molly's. I hope she likes it. I will have to get it off in the mail to her. The pattern can be found at Emerald Moon Creations. They have several child sizes and are now posting the adult sizes. I love this pattern! I can't wait to make one for me. Here is the link to the pattern.
http://emeraldmooncreations.tripod.com/id18.html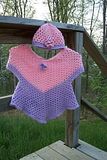 Here is my crochet turtle! I just love him! He comes from Simple Crochet for Cherished Babies.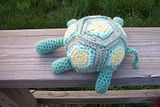 Here is the scarf that I made for my crochetville swap. I hope that my partner likes it. I am making another one though. Just in case!