Second Scarf
Here is the second scarf that I have made for my Swap partner. I hope she likes it. It is made from the feathers yarn that I got from Wal-Mart. It has chenille in it so it's super soft. Will have to make one for me out of this too!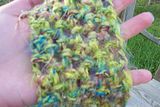 This baby afghan is for a girl that I work with. Her baby, Braden, is due in July. It still needs a ribbon, but have not been able to find the right color. Hope he likes it! It is made from Red Heart baby. The pattern comes from the Simple Crochet for Cherished babies. Simple V-stitch, but I really liked the boarder.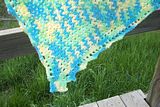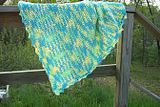 I am also working on a hook holder that was posted on Crochetville. That will be a mom's day present for my mom. I think I might fill it with some hooks and things too. I think she will like it. She is always loosing her hooks. Or having to hide them from the grandkids and who knows where they end up.
Jessie