Mother's Day
Well, I am feeling a little better. Still pretty miserable. Darn allergies. Sore throat and my tooth is still killing me. Sinus cavity is so full of pressure that it's pushing on my tooth. Grrr. That tooth is too expensive, it needs to stop!
I took some pictures of the gifts I made for my mom for mother's day. In fact, I used her new camera! Ha! I just bought her a digital camera and wanted to make sure that it was working properly before sending it to her. I think that it takes really good pictures.
Here is the rose bath pouf that I made for her. Pattern found at http://www.crochetme.com/Apr_May_20...for_mother.html I made this from Peaches N Cream Cotton.
I also finished the hook holder that I was making for her. Patten found at http://www.sarahanns.com/crochetworks/case.html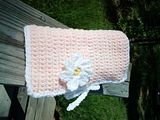 Well, the kiddo is sleeping and I should be too!
Good night!
Jessie