Christmas Items
Here are some photos of what I have been up to. I made a lot of my Christmas items this year. I just hope the people receiving them are not disappointed! Mostly for the kids.

This hat is for my nephew so when he plays out side in SD snow he won't be cold!


This bag is for my neice, I filled it with some goodies for her.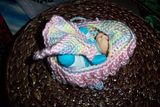 This cradle purse is for another neice. She's big in to babies these days. I think she will like it.
Baseballs for the two little nephews. They will be perfect for grabbing, throwing and chewing! The pattern came from an old workbasket magazine and you make them just like a real baseball.

This head band is for another neice. She's the girly girl one and this fits her to a T. Her sister's is blue and green stripe, but I did not get a picture of that one. Forgot before I wrapped it!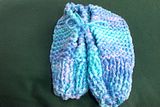 These slippers are knit from a pattern my grandmother gave me. She used to make them for us every year, but now she can not see any longer and has passed the pattern on to me. So I made her a pair this year! My aunt also got a pair, and hers are red. No picture, mailed the box before I rememebered.
I have some more things to add, will do that after I get the pics downloaded!