Welcome Paige Marie
Well, I have been neglecting my blog for far too long due to the addition to our family. Paige Marie was born 4 weeks early on December 27th. She is doing fine and is getting so big!
Here are some hats that I made for her. Some she likes more than others.....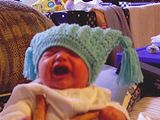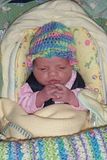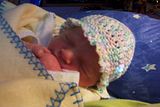 Things are going well here, I have decided not to go back to work at this time. I have taken a personal leave of abscence and can do that for up to one year. At that time I can decide what I would like to do. So I am still on employment status and can go back with just 2 weeks notice. My last pay check will be this week and we will see how that all goes! Wish us luck!!!
I will post more photos soon as I have a couple of more works in progress to show off.
I have a bunting I made for Paige as well as a throw I am making for my cousin's wedding in June.